Marsupiales es un grupo de mamíferos vivientes restringidos en América (~75 especies) y Australasia (~200 especies). Ellos son integrantes de Metatheria, grupo que incluye formas fósiles y marsupiales que están representados en el registro fósil desde el Cretácico temprano. La principal característica típica de marsupiales es reproductiva: ellos nacen en un estado de muy poco desarrollo y trepan hasta el pezón materno donde quedan anexados por un tiempo prolongado. Marsupiales muestran una gran variedad de formas y tamaños desde los ~100 mm en el menor hasta ~270 mm en el mayor (en ambos casos incluyendo la cola en la medición). Especies en marsupiales presentan una gran variedad de dieta con formas carnívoras que consumen insectos y vertebrados pequeños o de tamaño medio. Marsupiales omnívoros comen frutas o formas vegetarianas estrictas que solo comen hojas, como es el caso de varios canguros y el koala, mientras que los canguros de mayor tamaño y los wombats comen mayormente grama.
Soy integrante de un grupo de investigación formado por los mastozoologos David Flores y Norberto Giannini de la Unidad Ejecutora Lillo, que desarrollamos estudios cuali-cauntitativos de la ontogenia craneana de diferentes especies de marsupiales. La metodología básica de estudio implica estudio de muestras de cráneos de diferentes tamaños (edades) de una misma especie. Estudiamos cambios cualitativos a través de la comparación de la morfología representada en el espécimen más pequeño y comparándolo con la de especímenes mayores (asumidos como adultos). Para la técnica cuantitativa registramos una serie de mediciones craneanas que usamos para analizar con técnicas bivariadas y multivariadas. En el contexto de este proyecto hemos estudiado la ontogenia craneana de siete especies sudamericanas: Didelphis albiventris, Lutreolina crassicaudata, Dromiciops gliroides, Caluromys lanatus, Caenolestes fuliginosus, Lestoros inca y Rhyncholestes raphanurus; y tres especies de Australasia: Dasyurus albopunctatus, Echymipera kalubu e Isoodon macrorus. Estas investigaciones permitieron reconocer tendencias ontogenéticas similares en especies de diferentes linajes de marsupiales, y también modificaciones ontogenéticas solo reconocidas en unas pocas de las especies estudiadas. La dirección futura de este proyecto es aumentar la muestra de especies y proveer una síntesis sobre el cambio ontogenético y las variaciones alométricas representadas en el cráneo de marsupiales. En esta dirección, recientemente publicamos una síntesis de la ontogenia craneana de las comadrejas americanas (Didelphidae).
Marsupials are living mammals restricted to America (~75 species) and Australasia (~200 species). They are member of the Metatheria, a group including extinct forms and marsupials which is first represented in the fossil record in the Early Cretaceous. The main feature distinctive of marsupials is reproductive: they borne in an undeveloped state, and climb to the mother's nipple where they remained attached for a long time. They show a  variety of size ranging from ~100 mm in the smallest, to around 270 mm in the largest (in both cases including tail length). Species in this group have also a variety of diets with carnivorous forms eating insects and small vertebrates or in some cases middle-sized vertebrates. Omnivorous forms also include fruits in their diets. There are also strictly vegetarian species that eat leaves as is the case of several kangaroos and the koala, whereas the largest kangaroo and wombats have a diet based on grass.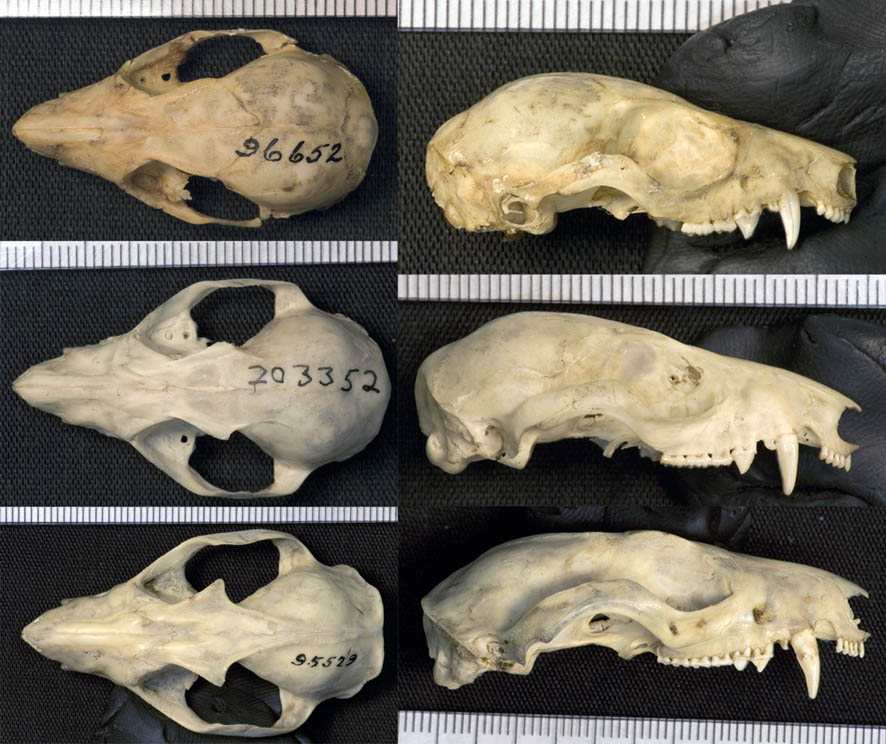 Dorsal and lateral views of the skull of a juvenile (top), subadult (center) and adult (below) of the South American marsupial Caluromys lanatus.
Specimens from the American Museum of Natural History.
I am member of a research team formed by David Flores from the Museo Argentino de Ciencias Naturales Bernardino Rivadavia, Buenos Aires and Norberto Giannini from the Universidad Nacional de Tucuman. We developed quali/quantitative studies of post-weaning cranial morphological changes in different species of extant marsupials. The basic methodology implies study of samples including different sizes (ages) of the same species. We explore qualitative changes by inspecting the cranial morphology represented in the smallest specimen of the sample and comparing with that of largest specimens (assumed to be adults). For the quantitative approach we record a series of cranial measurements in all the specimens of the sample and use these measurements for bivariate and multivariate analyses of allometry. In the frame of this project we already studied the ontogeny of seven South American species: Didelphis albiventris, Lutreolina crassicaudata, Dromiciops gliroides, Caluromys lanatus, Caenolestes fuliginosus, Lestoros inca and Rhyncholestes raphanurus; and three species from Australasia: Dasyurus albopunctatus, Echymipera kalubu and Isoodon macrorus. This research allowed the recognition of similar ontogenetic trends in species of different lineages of marsupials, as well as of ontogenetic modifications which are present in only some of the studied species. The future direction for this project is increase the number of species with similar kind of studies and finally provides a synthesis about ontogenetic changes and allometric variations represented in the skull of different lineages of marsupials. In this direction we published recently a synthesis of the cranial ontogeny of New World opossums (Didelphidae).